Siding Restoration on a Historic Home: Part 2
Painted Lady Home Makeover: Model ReModel 2022 mixes bright colors with modern touches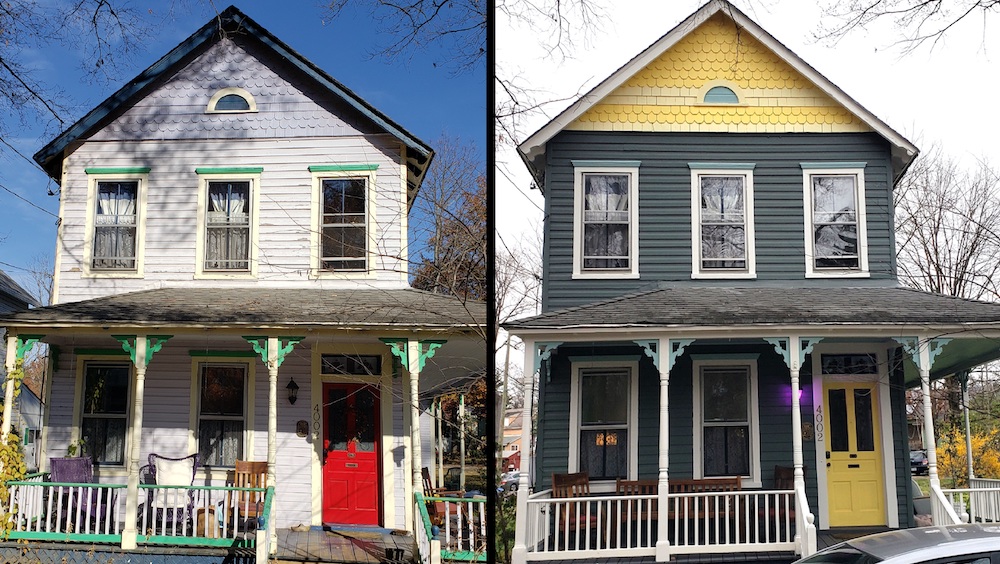 It has been more than a quarter century since our Model ReModel 2022 received a fresh coat of paint, and the challenge was to revitalize the look and feel of the property while paying homage to its 19th-century roots. 
The home is located in the historic section of Hyattsville, MD, known for its collection of "Painted Ladies," a term made popular in 1960s San Francisco to denote Victorian-style homes dressed in at least three bright, bold colors highlighting the architectural details of their exteriors. 
Symbi Homes CEO Nicole Tysvaer spent months researching and sampling colors to find the right mix of history and modernity. She selected a deep greenish-gray color for the siding, off-white trim, and bright aqua blue and yellow for accents.
 "We painted the corner boards the same color as the siding and painted the rafter tails the same slightly off-white color as the soffits and fascia at the roofline. This gives the home a fresh, modern twist," says Tysvaer. 
At the same time, Tysvaer celebrated the decorative craftsmanship of the historic Victorian style by accenting the fishtail gable in bright yellows and using a light aqua blue for the bow-tie corbels, the window pediments, and porch ceiling. The new paint job sports a brighter and bolder color palette with all the charm of a historic property.