Retrofit Step One: Model ReModel Gets an Energy Checkup
Assessing the Model ReModel's performance
One of the first steps in retrofitting an older home is to measure the building's baseline performance.
This includes measuring the thermal and moisture barriers of the exterior shell, energy efficiency of appliances and equipment, heating and cooling comfort levels, and presence of potential indoor air contaminants. 
This whole-home inspection and testing process is often referred to as an energy audit or home performance assessment.

WHY AUDIT?
Think of someone who hasn't exercised in a decade or more who wants to get into shape.
Prior to signing up for that 5K run, a complete physical exam at the doctor's office could provide important data points, such as baseline fitness level, heart health, muscle mass, etc., that may prove very useful in designing a fitness regimen. 
Similarly, a home energy audit provides a physical checkup of the "health" of your home. 
Conducted by a professional building analyst, components of an energy audit include:
An interior and exterior inspection of the integrity of the building's envelope, including foundation, exterior walls, window and door openings, plumbing and electrical penetrations, and underside of roof structure.
An inventory of all energy-consuming appliances and equipment (condition, age, energy use, etc.). 
Fluctuations in hot and cold spots throughout the home measured via an infrared camera.
Identification of potential health or safety hazards such as faulty combustion equipment that could emit harmful carbon monoxide gas.
Blower door testing to determine the air tightness of a home.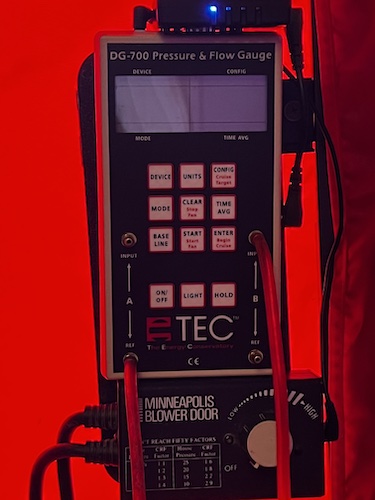 MODEL REMODEL 2022 AUDIT RESULTS
Prior to beginning renovations, Kelly Ross Gillespie of Kelly Green Raters conducted a baseline energy audit of Model ReModel's 19th-century Victorian home in historic Hyattsville, MD. 
Gillespie inspected all nooks and crannies of the house from the basement cellar up to the attic. She identified areas lacking insulation and proper air sealing. Gillespie also conducted a blower door test to measure the "draftiness" of the home, installing a doorway fan that depressurized interior airflow to a rate of 50 pascals. 
During the test, streams of cold air blew through the basement doorway, window frames, and electrical outlets, indicating areas of leakage in the 140-year-old structure.
Leakage results from the blower door test came in at 17 ACH50, meaning 17 air changes per hour at 50 pascals. For reference, the construction code for new residential buildings in Prince George's County requires an air change rate of 3.0 ACH50 or less. With a rating of 17, the home is considered very leaky.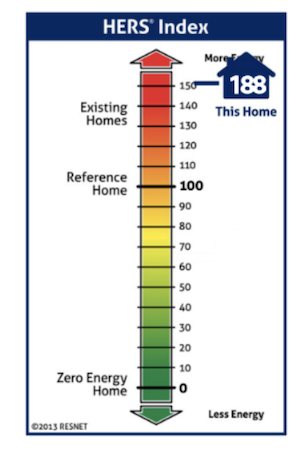 Gillespie entered audit results into energy modeling software to determine the home's estimated baseline Home Energy Rating System (HERS) Index score, a measure of how well the house is performing relative to an average code-built home.
The estimated HERS Index score came out to 188, making it 88% less-efficient than the average code-built home. A target HERS Index score would be 94, cutting current energy use roughly in half and resulting in a home that is at least 6% more energy efficient than a modern code-built home.
Learn more about deep energy retrofits and Symbi Homes' plan.