Preparing as a Remodeler for the Inflation Reduction Act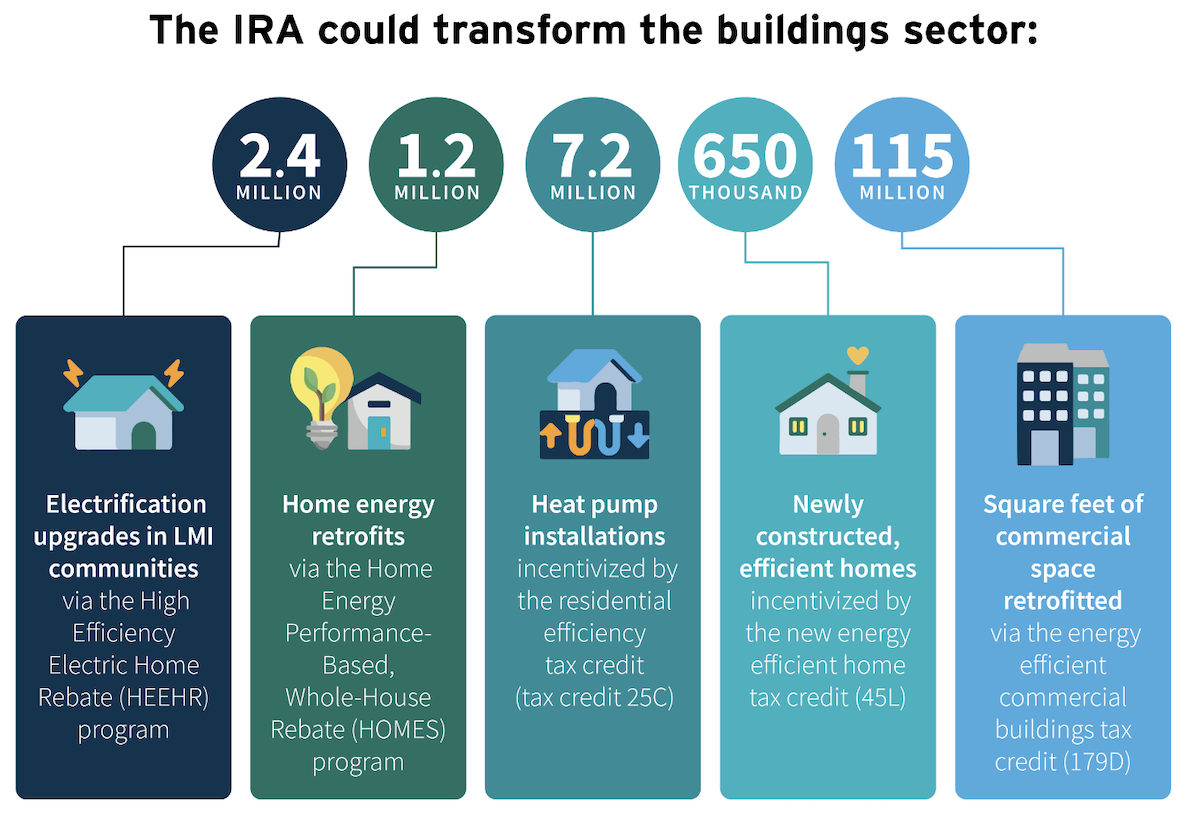 Estimated number of buildings that could be impacted by climate action initiatives of the Inflation Reduction Act of 2022. Source: Smedick, Golden and Pederson (2022). Courtesy RMI
Since the recent passage of the Inflation Reduction Act (IRA), the green building industry has been buzzing with enthusiasm for the more than $50 billion in federal funding to support energy efficiency upgrades for homes and commercial buildings. 
Beginning 2023, the legislation includes $9 billion to support retrofit installations of equipment and materials such as HVAC heat pumps, new electric appliances, insulation, and electric panel upgrades for qualifying low- and moderate-income households. 
Other initiatives, such as the Home Energy Performance-Based Whole-House Rebate (HOMES) program and the Energy Efficiency Home Improvement credit (25C), will provide thousands of dollars for upgrades to households regardless of income. 
RMI, formerly the Rocky Mountain Institute, estimates that more than 10 million homes will benefit from these climate action incentives. Clearly, this will be a massive undertaking for the home improvement industry, and it's been hailed as the largest piece of climate legislation in history.
Impact on Business
Undoubtedly, this juggernaut of resources will have a significant impact on the construction industry. 
Remodeling projects are always expensive, especially if you're talking about a deep energy retrofit, which calls for a dramatic reduction in gas and electricity consumption as we undergo renovations for kitchens and bathrooms, etc. 
Every dollar toward those projects helps. And these resources will make it easier for homeowners to expand the scope of their projects to maximize their energy-efficiency upgrades.
Preparation
These incentives will not become available until 2023, and even then, we're not sure exactly when.
As we wait for those details, the first thing I'm doing is getting educated about the various programs, how homeowners qualify, and what I need to do to help my clients access these funds. The role a contractor plays in ensuring clients can access these funds is crucial, so we must understand the act thoroughly.

I stay connected by subscribing to several online newsletters and community groups, such as the Building Performance Association Open Community, Green Building Advisor, and RMI.  Also, electrification non-profit Rewiring America has an excellent calculator, which helps homeowners determine the programs they might qualify for.
The Workforce Pressure 
With the potential increase in demand of energy-efficient installs, contractors will feel even more pull on an already struggling skilled trades labor force. We will need an increase in advanced training for contractors in building science, energy audits, and other certifications necessary to implement these programs.
I spoke with Stephanie Greene, managing director of Carbon-Free Communities at RMI, who explained that $200 million in the IRA is slated for contractor training. However, it remains to be seen how those resources will be allocated. 
Greene suggests contacting your state's energy agency, such as NYSERDA in New York, which provides free training to building professionals interested in advancing their skills to deliver energy-efficient solutions to customers.
There's a huge labor shortage and a tremendous knowledge gap that must be overcome to prepare the building industry for upcoming demand, but I am cautiously optimistic that the IRA, in combination with the mainstream's growing concern for our environment, will bring significant market forces to bear on the industry to the point where sustainable building becomes the norm. 
 
Additional Resources
Rewiring America's IRA: The Explainer
RMI: How IRA can transform the building sector
Summary of the IRA Climate Provisions
Symbi Homes CEO Nicole Tysvaer, PhD, LEED AP, brings more than 23 years of experience in the start-up world to her love of construction and passion for sustainability. At the core of Symbi Homes is its symbiotic approach to construction, ensuring a mutually beneficial relationship for people and planet by creating healthy and environmentally friendly homes.