The Power of Quality Rough-In Photos
These three quick tips will maximize the usefulness of your rough-in images 
The new in-law suite of the Model ReModel 2022 project is ready for insulation, but there's one last critical step in the project before sealing (and concealing) the interior walls and roof. 
Contractor Nicole Tysvaer of Symbi Homes has created a full compendium of rough-in photographs, a visual diary of all wall studs and blocking, roof trusses, and the completed mechanical, electrical, and plumbing components installed within the framing of the new attached accessory dwelling unit.
"A detailed catalog of the project just before insulation and drywall can be a valuable resource down the road," explains Tysvaer. "It literally gives the builder and the homeowner the power to see inside the walls of a home. This can be helpful for identifying the source of a mysterious leak, or if the owner wants to install wall-mounted shelves and avoid nicking a plumbing pipe." 
Tysvaer offers these pro tips for creating a useful and organized rough-in photo album:
1) Be methodical in capturing every room, hallway, attic, and crawl space. 
Tysvaer works clockwise at each entry door capturing the walls from floor to ceiling in small overlapping sections, then repeats the process for the ceiling. 
"It helps to have a logical, sequential process for capturing each and every detail. If you get sidetracked and miss a wall, then chances are that will be the one photo you desperately need and don't have during punch out," she says. 
2) Upload and organize images in location-specific folders on a shared drive during the photo shoot– this will save time and make the pictures easily accessible.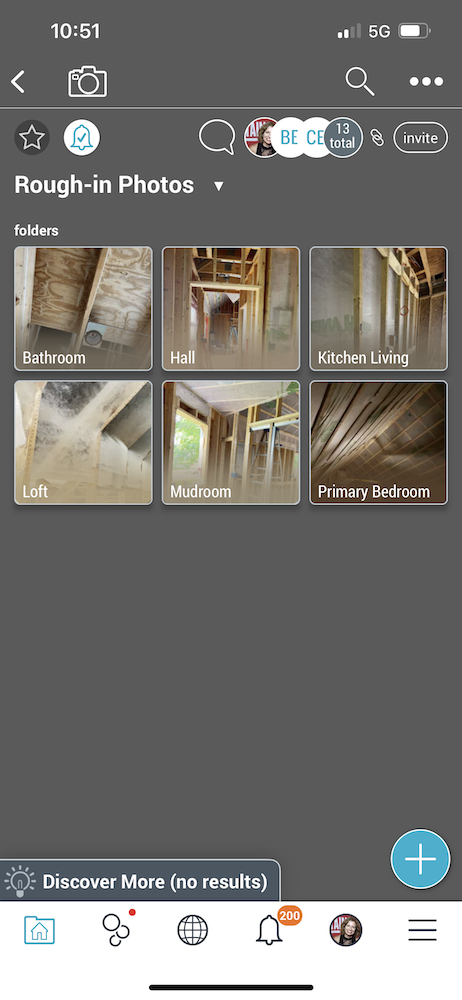 Tysvaer uses the Bublup to conveniently store and share rough-in albums with both staff and clients.
"It's so easy to snap a set of photos with my phone, create a unique folder in Bublup, and upload on the spot. I do this room-by-room and then delete the pics from my phone so I don't get one set of photos mixed up with another," says Tysvaer. 
3) Avoid lengthy videos that can be cumbersome to download and navigate.
Tysvaer prefers high-res photos over video for her rough-in shoots because images are easier to flip through and manage. Plus, high-res images allow the viewer to zoom in and see minute details. She also rarely uses a wide-angle lens that can distort the proportions of a wall or ceiling, which can make scaling more difficult. 
"Thanks to technology and cloud computing, it's never been easier to create a comprehensive and user-friendly rough-in photo album that can be a real asset for years to come," Tysvaer says.