Benefits of Continuous Exterior Insulation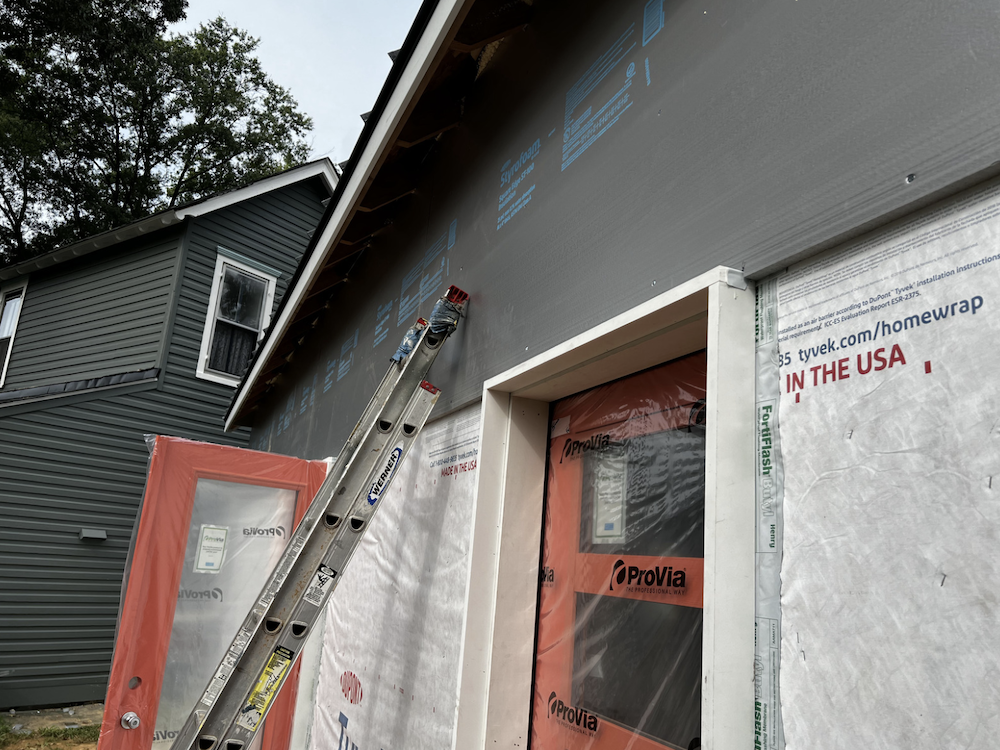 Symbi Homes designed a minimalist window and door trim profile that extended the depth of the exterior casings by 2.75" to allow for the additional thickness of exterior insulation and a rainscreen gap behind their fiber cement lap siding.
Continuous exterior insulation is a newer, popular way to support optimal thermal and moisture protection for new builds, additions, and some renovation projects. Model ReModel 2022's builder Symbi Homes will follow the same high performance building method for their net zero in-law suite addition.
Symbi installed a continuous layer of R-5 rigid polystyrene foam on top of a Tyvek water resistant barrier across all exterior walls. When added to their R-21 Greenfiber spray-applied cellulose on the interior, the unit now boasts a super-efficient R-26 wall assembly.
So what makes exterior insulation so special?
Because rigid exterior insulation is outside the framing members, it can wrap continuously around a building (with the exception of window and door openings) unimpeded by wall studs. Traditional lumber is notoriously low in R-value (about R-1 per inch), and therefore diminishes the thermal protection in a typical wall assembly. 
Second, exterior insulation adds another layer of protection around the entire shell of the home. In warm climates, a foil-faced exterior foam can prevent solar heat gain from entering the building. In cold climates, a rigid polystyrene foam can help insulate the exterior sheathing of the house, preventing condensation on the inside.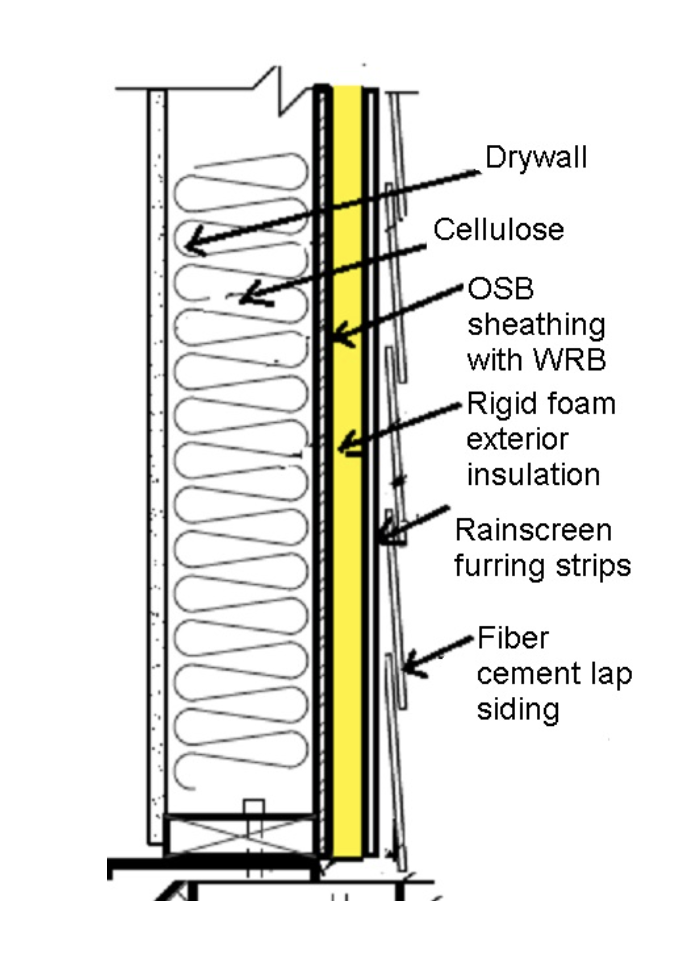 Builder and YouTuber Matt Risinger calls exterior insulation a "protective blanket" for the outside of his home. Architect and building science expert Christine Williamson says exterior insulation is the "MVP of insulation" applications. 
"Exterior insulation makes a lot of sense," says Matt Kulp, Symbi Homes VP of production. "There's a lot of benefit for the minimal added cost in terms of reducing thermal bridging and preventing trapped moisture in the wall assembly, which will lengthen the life of this home." 
One of the challenging aspects of exterior insulation is figuring out how to finish window and door trims with the extra thickness of the wall material.  For Model ReModel 2022, Kulp designed a minimalist trim "box" constructed of 2 -¾" PVC material. 
"You have to think about all the details when you start adding depth to the exterior, " says Kulp. "When it's finished, the PVC trim will stick out just 1/4" from the Hardie lap siding, which gives us that sleek, modern look that is part of the Symbi aesthetic."